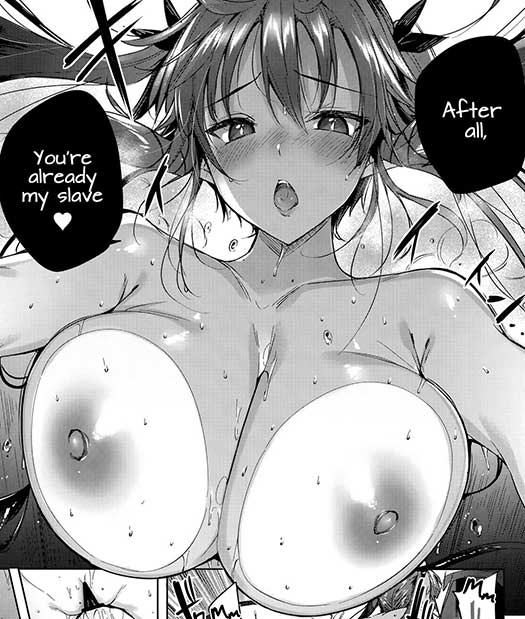 –Update: there's a volume 5 now!

So. We're with a fourth volume, indeed, but global context matters rather little, and it's summarized in the very beginning: a highschool girl became a succubus, she uses her powers to push the boy she likes into having sex with her, and this is it, for the finer details, read the manga yourselves

The focus isn't on the story, but on the sex. And in that regard, the drawings are SPLENDID. The girl's cute naughty face, with her pointy ears and her (rarely visible) tail, on top of all her splendid tits, man what a magnificent display

By the same artist, I also share Koakuma Setsuko No Himitsu volume 5 and Hajimete Ga Ii No.
For this release, my thanks go to Gian-Carlo and the Patrons of No Hentai No Life!
And now, the download & gallery links
Open the Complete Pictures Gallery
My occasional rant about excessive file sizes: I downloaded it myself as a huge 200 MB archive. A faint recompression later, with which you won't notice any difference to the naked eye, and now it's only 59 MB. Much better.
Or you can also use the Alternative:
Zip Mirror #1 – or – Zip Mirror #2 – or – Zip Mirror #3
–
Smaller version incoming!
As of usual when ☑ the images are in high enough resolution and ☑ the archive is quite big for its number of pictures, and ☑ it offers a significant gain, and ☑ I have enough time to do it, if it may help, I'm offering you a smaller version, in which I resized the images, here from 3604 px to lower-standard 1600 px resolution.
The zip shrank from 59 MB to 13 MB.
Personally, I prefer it for reading, and it takes less disk space.
Download links, Zip: Mirror #1 – or – Mirror #2 – or – Mirror #3 – or – Mirror #4