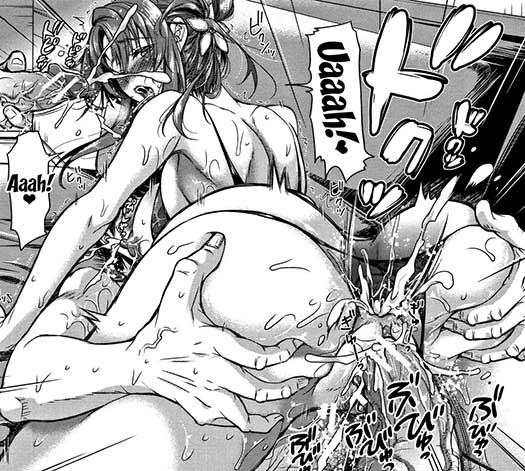 I was *slightly* disappointed by the first half of the manga, when it was released last year under the Tane No Nai Hachi ("A Seedless Flowerpot") name (to quote my own lines: "for fuck's sake, that was such a bore to read, I'm glad this is over"). And now, half a year later, the rest of the manga has been scanlated: a small arc and single chapters, all of them based on the same "dumb cheating" theme.
Strong warning, the manga caters to the audience who loves watching a male MC cucked hard, and who (probably: just my guess) enjoys watching a woman in a position of moral inferiority because she's fucking dumb and a slave to her vagina's needs.
The main arc is about a man and his wife, presented as hopeless idiots who ignore how sperm donation works. "Naturally", his wife will be gradually stolen by an alpha male, and the other woman to whom the husband starts feeling attached is stolen back (and even better, he is "used" in the process to unlock the achievement.)
The rest of the chapters are of the same inspiration, save two in which the husband is simply absent.
I sighed more times than I wish to count, but I'll give you that, the drawings are solid. Hardcore, deliciously crude, with fine, fine asses, the women have plenty of meat (almost Rubens style: here's an example, "The Three Graces"), save the occasional ahegaos this is excellently drawn.
Release credits are for Doujin-Moe, Yad-Scans, and Hentaicore, thank you!

By the same artist, I also share Yokumakezuma No Sukebegao (214 pictures.)
And now, the download & gallery links
Open the Complete Pictures Gallery
Or you can also use the Alternative:
Zip Mirror #1 – or – Zip Mirror #2 – or – Zip Mirror #3
–
Smaller version incoming!
As of usual when ☑ the images are in high enough resolution and ☑ the archive is quite big for its number of pictures, and ☑ it offers a significant gain, and ☑ I have enough time to do it, if it may help, I'm offering you a smaller version, in which I resized the images, here from 3000 px to lower-standard 1600 px resolution.
The zip shrank from 771 MB to 119 MB.
Personally, I prefer it for reading, and it takes less disk space.
Download links, Zip: Mirror #1 – or – Mirror #2 – or – Mirror #3 – or – Mirror #4