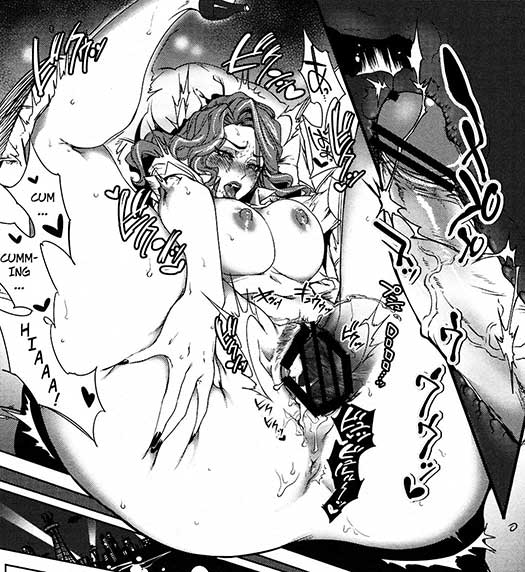 Reading the scenario of Tiger & Bunny on Wikipedia made me want to discover the series, it seems pretty interesting. Would someone have an opinion on it, you'd say it's worth it?
Anyway: here's a good doujinshi for this series, focused on a female T&B character, Agnès Joubert, a TV announcer. In the first part she's a dominatrix (this time, as a gentle woman catering to the deepest needs of her bondage customers, she lets them turn the tables on her exceptionally), in the second part a female studio assistant gives her a massage that becomes futanarisexual ( ̄ヮ ̄)┌
Graphically, it's fucking sweet, bursting with talent, with barely annoying faint amounts of censorship.
You'll get to enjoy 2 different art styles, as 2 mangakas collaborated in the making of the volume, Tohzai and Namboku. I must tip my hat off to their work, they didn't overwrite the Agnès Joubert to do us a Tohzai, a Namboku, no: they respected the character and adapted to how she had to look like, would you see the difference? So much talent, I loved it


It's been released by CopyOf, many thanks!
By Namboku, I also share Follow X Follow + Let's Work Magic, Koibito Lover – For Sweet Lover (220 pages, awesome !), My Lover's Rule + Climax, Round 3, Inyoku No Ensousha and, included in a pack of other works now belonging to Koibito Lover, Zeon De Gouf Gouf.
And for the Tohzai part, see The list of Tohzai's works on Hentairules

And by both Namboku and Tohzai, also under the Hougakuya circle name, I also share Round 08. It makes my management of hentai volumes complicated, sigh *__*
And now, the download & gallery links
Open the Complete Pictures Gallery
Or you can also use the Alternative:
Zip Mirror #1 – or – Zip Mirror #2 – or – Zip Mirror #3