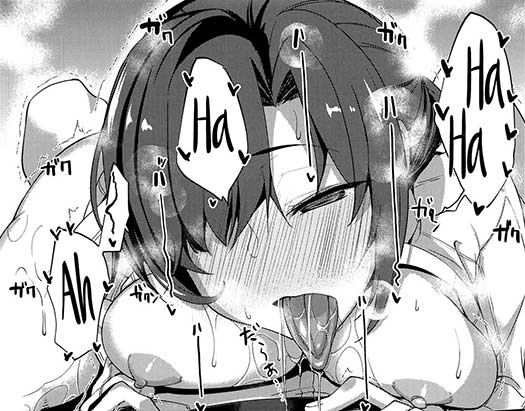 Might that be a sequel to Shigoto Agari No Boudica Wa Marude Gaman Ga Dekimasen?
There's just enough scenario to set up the mood and establish the relationship between the characters, Boudica (the Fate / Grand Order slightly chubby Servant) and her master, they've been going out for a while and we're gifted the chance to watch another peaceful end of day for them. Vanilla sex, it is =)
In terms of art, it's Fue, what else must I write? Originally, skilfully drawn art, with a magnificent focus on heavenly deepthroatting, French kissing (don't tell me it doesn't taste weird IRL after a BJ) and pretty good sex too

We owe this new Fue release to Hive-san, thank you!

I've got more for you: see The list of all the works by Fue shared on Hentairules!
And now, the download & gallery links
Open the Complete Pictures Gallery
Or you can also use the Alternative:
Zip Mirror #1 – or – Zip Mirror #2 – or – Zip Mirror #3
–
Smaller version incoming!
As of usual when ☑ the images are in high enough resolution and ☑ the archive is quite big for its number of pictures, and ☑ it offers a significant gain, and ☑ I have enough time to do it, if it may help, I'm offering you a smaller version, in which I resized the images to lower-standard 1600 px resolution. Originally, the images were around 3030 px.
The zip shrank from 104 MB to 16 MB.
Personally, I prefer it for reading, and it takes less disk space.
Download links, Zip: Mirror #1 – or – Mirror #2 – or – Mirror #3 – or – Mirror #4