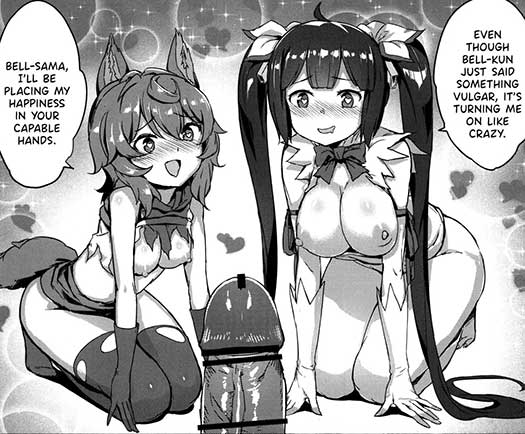 There's no scenario here, it's just the Danmachi characters, Lili and Hestia, paired with the series' male main character, Bell, having fine sex.
Plain and simple, as long as the art is to your taste, have a go =)
We owe this one to Animefan71109, NekoHime, Underscore and Phalodite, from Hennojin, thank you!

By the same artist, I also share RE:Zero After Story and Avrora No Oyome-san Project..
And now, the download & gallery links
Open the Complete Pictures Gallery
I allowed myself to very slightly recompress the images before sharing. You won't notice any difference with the naked eye, but now it's only 54 MB instead of 122 MB =)
Or you can also use the Alternative:
Zip Mirror #1 – or – Zip Mirror #2 – or – Zip Mirror #3
–
Smaller version incoming!
As of usual when ☑ the images are in high enough resolution and ☑ the archive is quite big for its number of pictures, and ☑ it offers a significant gain, and ☑ I have enough time to do it, if it may help, I'm offering you a smaller version, in which I resized the images, here between around 3300 and 3500 px, to lower-standard 1600 px resolution.
The zip shrank from 54 MB to 14 MB.
Personally, I prefer it for reading, and it takes less disk space.
Download links, Zip: Mirror #1 – or – Mirror #2 – or – Mirror #3 – or – Mirror #4