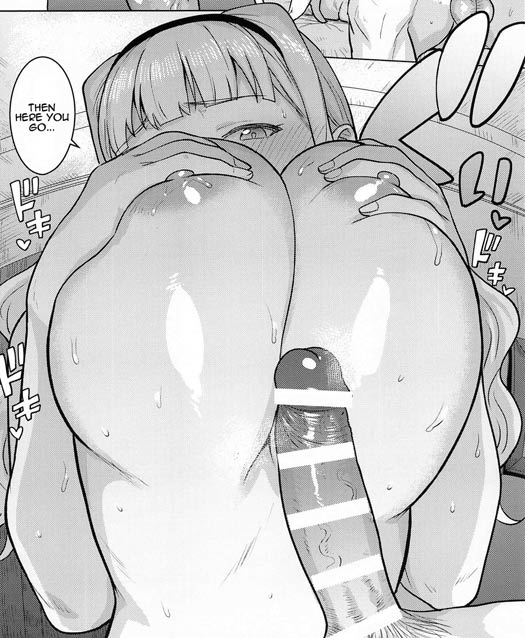 Oh god. Those boobs. THOSE BOOBS.
Religions could be built around them. We'd all unite in peace, worshipping manga titties instead of fighting for pointless causes, wouldn't it be so much better?
Well, anyway, Oliver coming back to Earth, it's Takane, the busty Idolm@ster idol, already engaged with her producer, spending the night with him. She's a bit concerned about her breasts lactating (which is normal, they're having a child), but not that much: her darling loves sucking on her tits, so all is good in hentai land =)
And graphically… I felt in awe, multiple times. Tsurui's talent is rare, made of a "consistently excellent" plateau interrupted by a few "oh my god it's fucking AWESOME" peaks piercing the stratosphere. The concentration of lewd, intense, enticing drawings made me feel like the volume lasted much longer than its 39 pages, that was splendid

I hope you'll find it to your tastes, and thanks a lot, a whole lot, to Stopittarpit, commissioned by a kind Anon!

I share plenty more Tsurui/Plant works, See their complete list!
And now, the download & gallery links
Open the Complete Pictures Gallery
I allowed myself to very slightly recompress the images before sharing. You won't notice any difference with the naked eye, but now it's only 64 MB instead of 122 MB =)
Or you can also use the Alternative:
Zip Mirror #1 – or – Zip Mirror #2 – or – Zip Mirror #3
–
Smaller version incoming!
As of usual when ☑ the images are in high enough resolution and ☑ the archive is quite big for its number of pictures, and ☑ it offers a significant gain, and ☑ I have enough time to do it, if it may help, I'm offering you a smaller version, in which I resized the images to lower-standard 1600 px resolution. Originally, the pictures were around 3020 px high.
The zip shrank from 64 MB to 21 MB.
Personally, I prefer it for reading, and it takes less disk space.
Download links, Zip: Mirror #1 – or – Mirror #2 – or – Mirror #3 – or – Mirror #4