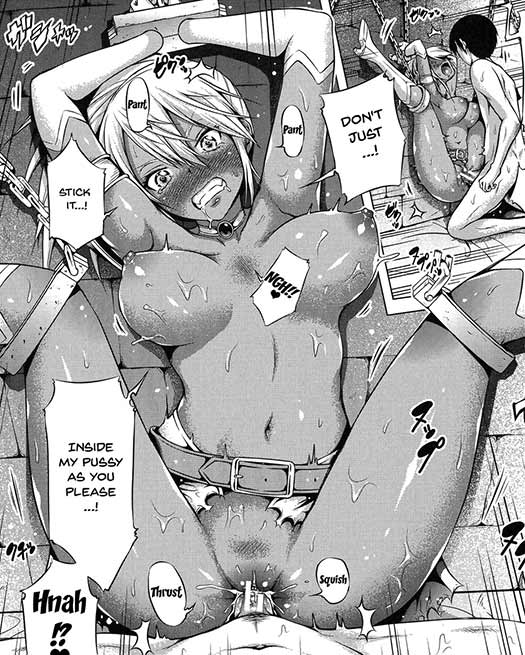 –Update: excellent news, the second volume, Isekai Harem Ge, is now available!

Tonight's weather forecast: jizz downpours.
Here is a faptastic release, 199 pages of a-we-some sex, with plenty of girls, drawn with crazy skills, Akatsuki Myuuto delivered quality

The story: a NEET is sucked into his online harem game, suddenly these are real girls, and every single one of them wants to have sex with him. It's a fantasy world exclusively populated by sexy young cuties, and before his arrival, there wasn't a single man available: HAREM TIME


Sure, there are a few more scenario tidbits, but they aren't elaborated, I'll suppose they'll be for the second half, whenever it is scanlated.
And this is it. An isekai fantasy universe allowing plenty of diverse girls, including demi-humans (nekomimiiiiii!!), plenty of girl types (mostly teen type, but also a delicious looking meaty busty queen), sex drawn with world-class skill and with hardly any censorship at all…
Enjoy, my dear perverts, enjoy, and thanks a LOT to doujin-moe!

By the same artist, I also share Lingua Franca (252 pictures, Uncensored), Beautiful Girls Club ("Bisyoujo Club") volumes 1-2 (Tank, 442 pictures), Dorei Usagi To Anthony (uncensored, 243 pictures), Lovemare Jou (250 pictures), Lovemare Ge (242 pictures), Isekai harem Ge (208 pictures), Shoujo x Shoujo x Shoujo (213 pictures), Innocent ~ Shoujo Memoria ~ (202 pictures), Shoujo X3 the hentai anime – episode 1, and Moratorium Shounen X Shoujo.
And now, the download & gallery links
Open the Complete Pictures Gallery
I allowed myself to very slightly recompress the images before sharing. You won't notice any difference with the naked eye, but now it's only 270 MB instead of 396 MB =)
Or you can also use the Alternative:
Zip Mirror #1 – or – Zip Mirror #2 – or – Zip Mirror #3
–
Smaller version incoming!
As of usual when ☑ the images are in high enough resolution and ☑ the archive is quite big for its number of pictures, and ☑ it offers a significant gain, and ☑ I have enough time to do it, if it may help, I'm offering you a smaller version, in which I resized the images, here from around 2450 px (with minor variations) to lower-standard 1600 px resolution.
The zip shrank from 270 MB to 118 MB.
Personally, I prefer it for reading, and it takes less disk space.
Download links, Zip: Mirror #1 – or – Mirror #2 – or – Mirror #3 – or – Mirror #4