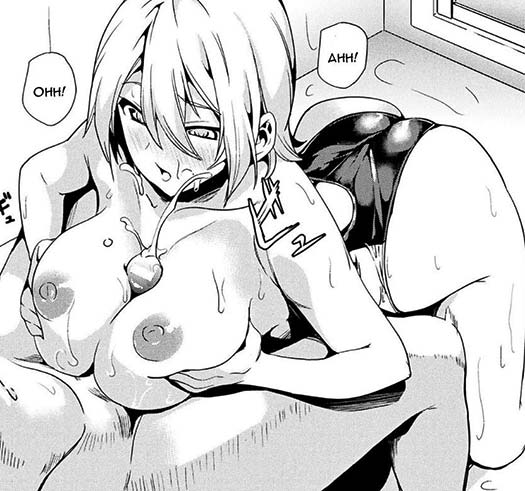 Wow, calling it "disturbing" would be an understatement. But, on the other hand, it won't be a surprise either: there's "by Date", in the title

Save two chapters in the end, the entire volume is about a female slime who fell in love with a human, and uses her abilities to let him live a good life. So far so good, right?
She'll absorb cute human women catching his eye, create a duplica of them that looks like the former original, and let the young man have sex with them whenever he wants. That's the Date touch: not just "I take a look, I duplicate", no, the originals are gone (╹◡╹)
The final 2 chapters deal with different topics, mindbreaking (word) an elf, and gender bendering…
Graphically, that looked very hot, the sex was nice and intense, with fairly little censorship, at least I won't complain for that

Well… Make yourselves your own opinion, folks? I won't judge lol.
Release credits are for an ehentaier caller Articalex (he combined separately released parts, and translated the final chapters), CGrascal, Col. Sanders, and Desudesu, many thanks!
By the same artist, I also share Reincarnation ~ Ubawareta Shoujo No Karada (200 pictures), Denshin Sousa, Ayatsuru Otoko ~ Subete no Onna o Omoidoori ni ("The Man Who Controls Ladies", parts 1-3, complete), Tanin Ni Naru Kusuri volumes 1-2, Kuzuo No Kuzu Application, Honey Lesson, a pack of 3 works (In The Forest + Konna No Atashi Janai + Overwrite), and Saimin Sharyou Bishoujo JK O Jibun No Mono Ni.
Hentai collectors, one of my past shares has become obsolete, as it's now part of the presently shared volume, if you want you may safely remove it from your collection:
– Doukyo Suru Neneki Zenpen
I'm not sure, do you think I should have also tagged this as yandere, as the slime does nasty things to please the boy even though she knows it makes him ill at ease?
And now, the download & gallery links
Open the Complete Pictures Gallery
Or you can also use the Alternative:
Zip Mirror #1 – or – Zip Mirror #2 – or – Zip Mirror #3