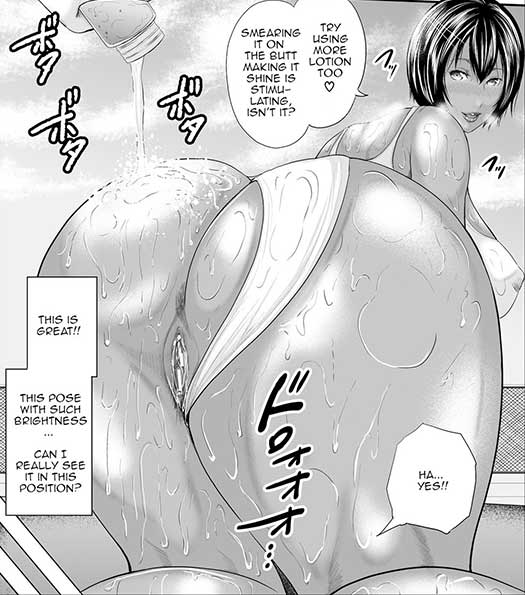 To me, that was prostitution with extra steps, heh. Introducing a certain boarding school for young male elites, in which the parents send their sons to make them accustomed to the female body.
The schedule on the blackboard for the first day on the male MC's new school had: "9:00 Math lesson. Once finished, Cherry Pop."
¯\_(ツ)_/¯
And, although it surprised me to find it was enough to fill a complete volume, this is as far as the scenario goes. The male MC has five sexy busty female teachers revolving around him, teaching him how to please women vaginally, anally, telling him about foreplay and hinting at how to find what makes each different woman go wild.
The drawings were… okay? Meaty uncensored sex is good by definition.
But, still, I didn't like everything. Women almost twice as big as their male partner, it always feels weird to me, and I have a petty rant: the male MC's penis is on the small side and has phimosis. I know it can happen, but, urgh, not in my hentai please T___T
Oh well, I hope you may like this release, and thanks a lot to Amoskandy!
By the same artist, I also share Soukan No Replica, volume 1 (226 pictures), Soukan No Replica, volume 2 (219 pictures) and Ikanishite Haha Wa Onna O Kaihou Shitaka + After Story (373 pictures.)
Now, there's something weird to me, I wondered if I should mention it. The scanlation was done by Amoskandy, which means quality. But, here, there were multiple times where the dialogues sounded childish and looked like scanlation mistakes. Either Amoskandy didn't reread himself, or, my guess, it means the Japanese dialogues sucked in their own original form lol

And now, the download & gallery links
Open the Complete Pictures Gallery
Or you can also use the Alternative:
Zip Mirror #1 – or – Zip Mirror #2 – or – Zip Mirror #3