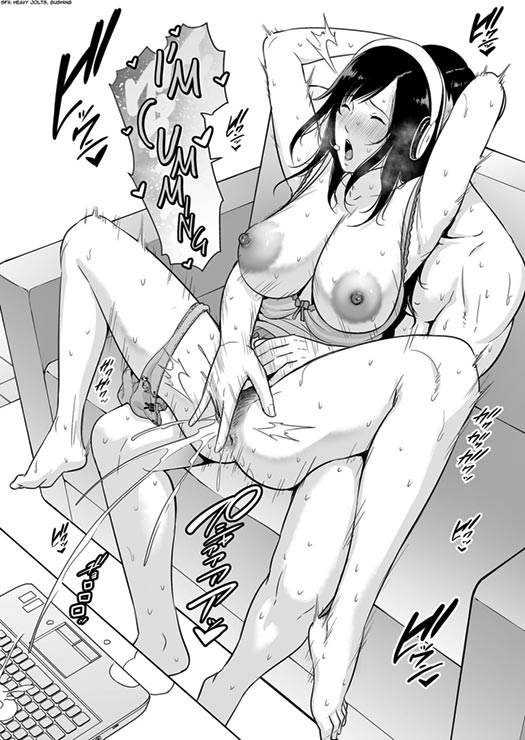 It's not fair, my facepalming started even before I began reading. I should give the manga a chance, no?

… Okay, I've read it now.
It's… not as bad as it could have been. The mangaka picked an original story development route, and in the end we have two adults who have achieved happiness with mutual honesty, it's already a big deal.
To sum it up, a mother and young adult son are living together, in mutual respect, until the balance of their situation is broken when the son discovers she works as an adult streamer. She defends herself with the predictable (although legit) explanation that she's been man-less for so long she needs to feel like a woman, wanted, burning with lust. And fortunately, against all hentai odds (not), the son felt just that for her.
After this, the story remains original, the two of them explore each other more and more intimately… while the streaming continues, and the audience submits enthusiastic comments ┐( ̄ヮ ̄)┌
Graphically, ah, sigh. Huge black bar censorship, tons of pubic hair, way to ruin otherwise good art, in my eyes.
Thanks to Incogna777 for this release!

By the same artist, I also share Sensei Wa Seiyoku O Osaerarenai (206 pictures), Boku Dake No Inbo-tachi (208 pictures), Kaa-san To Sex Ni Oboreru (200 pictures) and Mama Lesson.
And now, the download & gallery links
Open the Complete Pictures Gallery
I allowed myself to very slightly recompress the images before sharing. You won't notice any difference with the naked eye, but now it's only 60  MB instead of 115 MB =)
Or you can also use the Alternative:
Zip Mirror #1 – or – Zip Mirror #2 – or – Zip Mirror #3