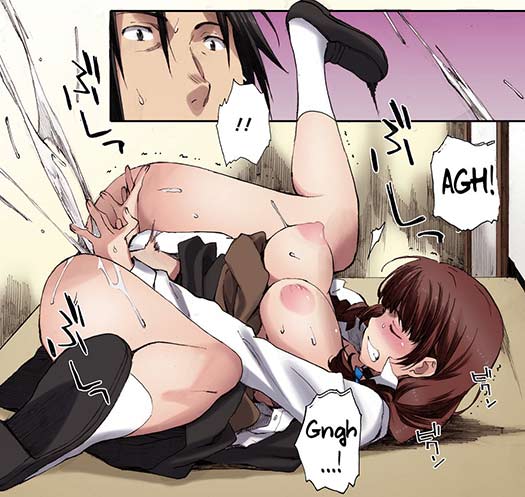 On the one hand… yep, it's by a skilled mangaka, yep it's a 206 pages long volume, yep plenty of people love full colour art (not a poor fan-made colourization, a genuine one as chosen by the artist), yep the girls look great.
Also, the art was original, I don't think there are other mangakas like Arai Kei (you may know him as Kansai orange perhaps).
Even the story lines were worth it. Each story the manga is made of (the tank's made of stories one or two chapters long, essentially) had a unique and original taste. There was light comedy, sometimes it was heavy on the drama side, sometimes casual adultery devolved into scary yandere, and there were more! You're in for a few surprises.
All fair and good points. Yep.
But… FUCK ME THAT AMOUNT OF CENSORSHIP WAS HORRIBLE.
You know what, I prefer full lightsaber whiteout censorship, to gross blur mosaics, the type which we have here in the manga. I believe it will encourage readers into fast browsing and only stopping to enjoy the panels in which no genitalia are "visible".
Will you like it despite the censorship, I cannot tell, huhu, your call!
Thanks and cheers to whoever is behind this release!

EDIT: there's now a grayscale version, with better art, and less censorship!!
By the same artist, known as Arai Kei and as Kansai Orange, to this day, I also share Gunjo Gunzo (245 pictures), Houkago Initiation (208 pictures, the full colour version), Clover 1-4 HaPPY LIfe, and a MASSIVE pack with ALL my other English-translated works by Kansai Orange (20 volumes, no less, and I retouched/improved them whenever I could!)
I feel like I don't write long enough walls of texts, so please bear with me, I have more information to add

Hentai collectors, maybe you'll want to hear some of this tank's chapters were already shared on Hentairules in their former versions, that are now obsolete. You may safely remove them from your disk if you had downloaded them.
Those old shares are:
– Yugame (distorted love)
– The preying Mantis' Nest
– Natsu No Hate
– Doutei Otoko To Toramimi Onna
And now, the download & gallery links
Open the Complete Pictures Gallery
I allowed myself to very slightly recompress the images before sharing. You won't notice any difference with the naked eye, but now it's only 73 MB instead of 291 MB =)
Or you can also use the Alternative:
Zip Mirror #1 – or – Zip Mirror #2 – or – Zip Mirror #3