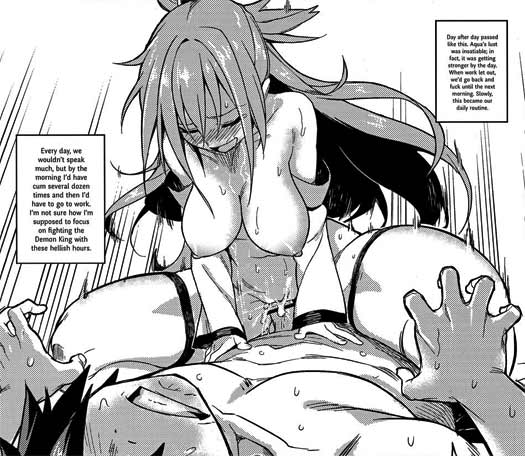 Aqua, from Kono Subarashii Sekai ni Shukufuku o becomes Kazuma's lover. And from there on, the "story" (airquotes are strongly recommended) takes an unexpected turn. Aqua becomes a slave for dick, lust took over rationality, self-mindbreaking. The girl's insatiable lust becomes such a burden for poor Kazuma (over a dozen times every single new night, again and again) that in the end he sells Aqua's prostitution service to groups of men, at least it's not his body that's taking the toll O_o
So, what? Weird story canvas, quality art? Yeah, I guess. Credits are for Nipplezits, Eno and Vilis, from Hennojin Scanlations, thank you!
By the same artist, to this day, I also share Seishori Servant In My Room and Futari Shakai.