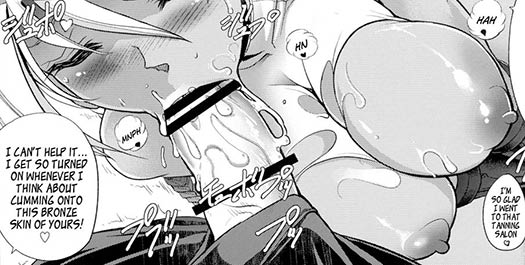 How about some futanari hentai, for a change? ^^
Here is a 100% brains-free Street Figthter doujinshi, in which Chun-Li and Cammy have futa sex together, then it's Karin and Sakura, and in the end everyone regroups to futa-worship Sakura's bloomers in a four-person orgy ┐( ̄ヮ ̄)┌
We lack the vanilla I've come to enjoy in other works by Kawaraya Honpo, but graphically it's okay (and a tanned Cammy, with her super long braids, I take it every day of the week), I strongly believe that if you're a futanari fan, this doujinshi should be just what you need


(Bonus, a small anatomical screwup amused me: Brackium Emendo!

)
Enjoy! And thanks to ReysonTheNoble, ReadTheLN, LWB and Dragon!
My other shares by the same artist are also full-futanari, except for the first: Love Tutorial (223 pictures), Lovey Dovey, Sin-Lovey Dovey, Pokapoka Onedari Onsen, Oomisuka, A pack of 3 futa works (Princess And The Slave, Wokaerinasai, Woyasuminasai), Natsu No Omoide ("Summer Memories"), Kashidashichuu + Wokurimono, Flowers Breaking Through My Soul, Ish x Mash x Eresh and Tiero Il Piacere.